Things to Know When Planning a Cleanroom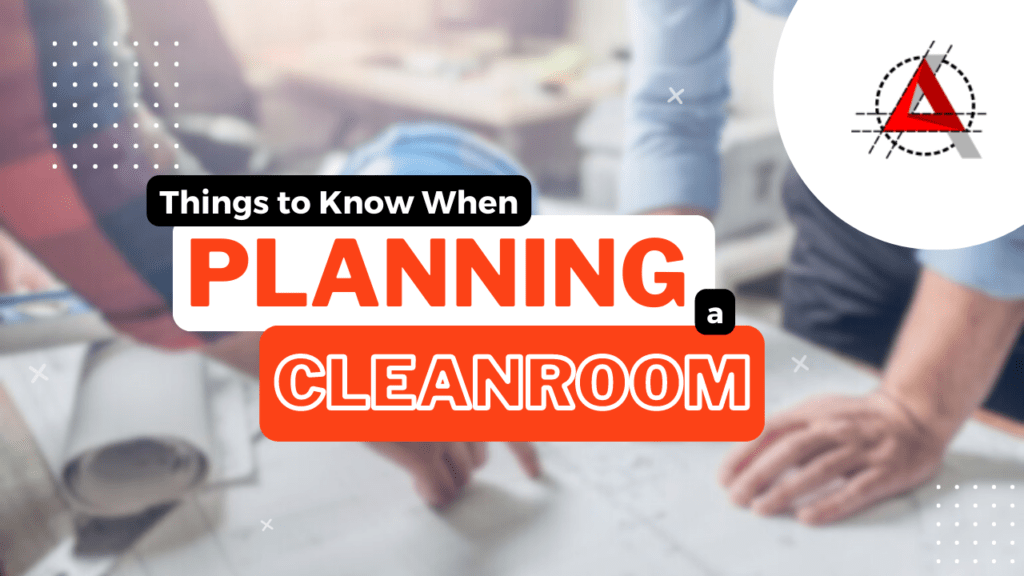 A cleanroom is a complex project that requires a lot of attention during the planning phase. If implemented successfully, it can be an invaluable asset in various types of productions. The challenge with planning a cleanroom is that you cannot just take a pre-made design. Your requirements will always be uniquely customized to your project. As a result, this requires a lot more planning than the typical construction job. You must also account for additional considerations, such as long-term maintenance and employee equipment.
The basic idea of a clean room is implied by its name. It is a room with a highly controlled environment, minimizing the number of particles flying in the air. This has uses in many industries – pharmaceuticals, health care and electronics being a few of the biggest examples. Many things need to be produced in such environments, which involves highly sensitive processes.
Understand Your Requirements
It is important to optimize the design as much as possible. Think about the space you will be using. You should not extend the room beyond what is currently necessary; this does not just affect your initial construction costs but the operating cost as well. In fact, it will also factor into the maintenance of the cleanroom in the long term – the larger the room is, the more expensive it will be to keep it running.
On the bright side, most current-era cleanroom designs allow for modular concepts, enabling future extension. This can allow you to expand things if production picks up at a later stage. Of course, you will need to leave some room available for that in the first place. This stage of your planning will require you to be familiar with various legal frameworks as well. You have to ensure compliance to every standard relevant to your operations.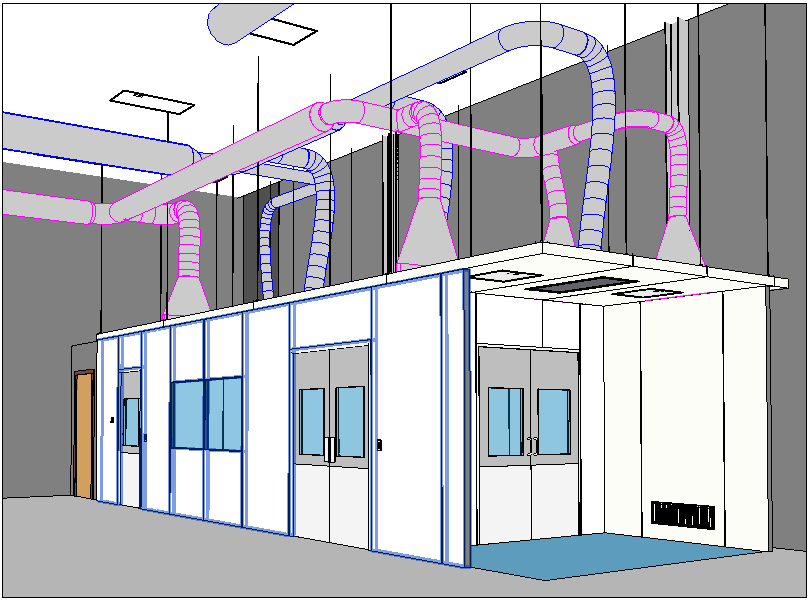 Choose the Right Ventilation Solution
Ventilation is another important consideration in your cleanroom design. Sometimes you can get away with a relatively simple solution. However, in other cases, you will need a more advanced system to be compliant. In general, your ventilation system should be capable of removing particles from the room quickly. It should be focused on specific points where you expect particles to accumulate fastest. You may also need to control specific factors about the room's environment. If you need air conditioning and humidity control, this will require a specialized system.
Think About Access
Access can be one of the biggest problems in planning an efficient cleanroom. You have to account for the flow of people through the premises in their daily work. At the same time, you must ensure that the flow of outside air is minimized. Airlocks are a common solution; however, they can be bulky and can not be installed everywhere. Pay attention to other kinds of locks as well. You may have to keep certain materials out of the room and not just people. Also, the pressurization should be well designed to create appropriate air flow direction by using cascade or bubble airlocks.
Account for the installation of large machines at a later point; this will often interfere with your current airflow setup and may even require you to pause your operations. It is recommended to consult your cleanroom contractor for preparing details for the installation plan for bringing equipment at later date. It will be easy to accommodate this kind of request with modular cleanroom construction.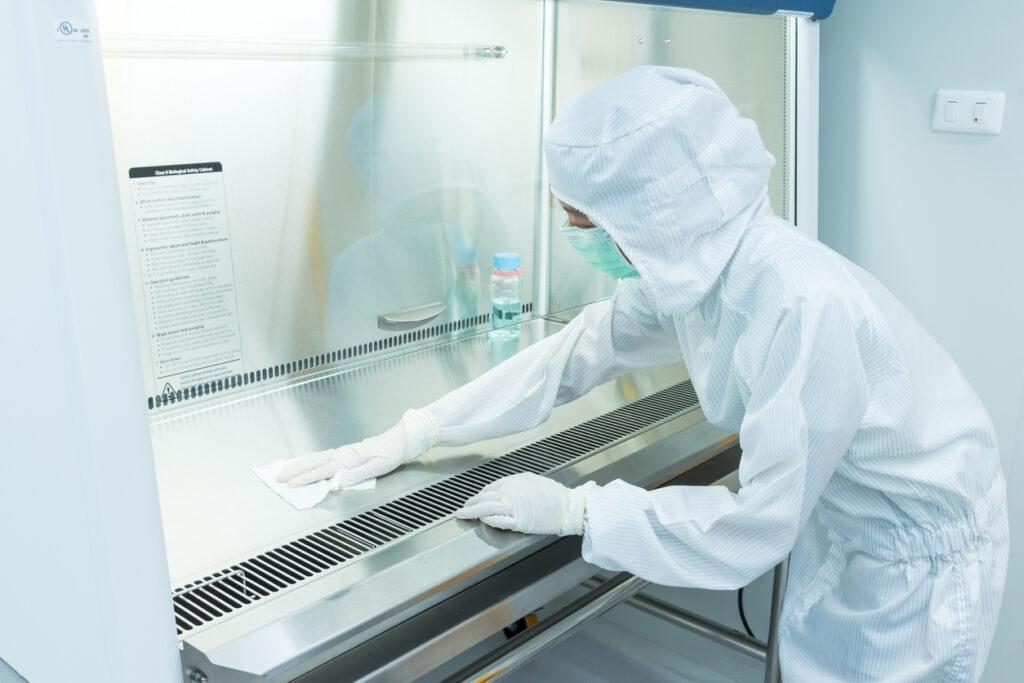 Interior Materials and Furniture
Picking the right materials for your cleanroom is more important than you might think. Surfaces need to be easy to clean without reacting to the cleaning agents used. There are some common solutions used for cleanrooms that you should start with. These regulations typically apply to all horizontal and vertical surfaces. If you operate in a more specialized industry, there may be additional requirements.
The same applies to the furniture you are using. All surfaces should be antistatic to avoid gathering dust and other particles. Seating furniture should not be resistive to abrasion; therefore, using fabric of any kind is strictly prohibited for this reason. Pay special attention to the chairs you are picking. Your employees are going to appreciate an extra level of comfort in these circumstances. Working in a cleanroom can be straining in many ways. To this end, an adjustable chair and a comfortable desk can go a long way. Again, none of the furniture you are using should feature any kinds of fabric surfaces.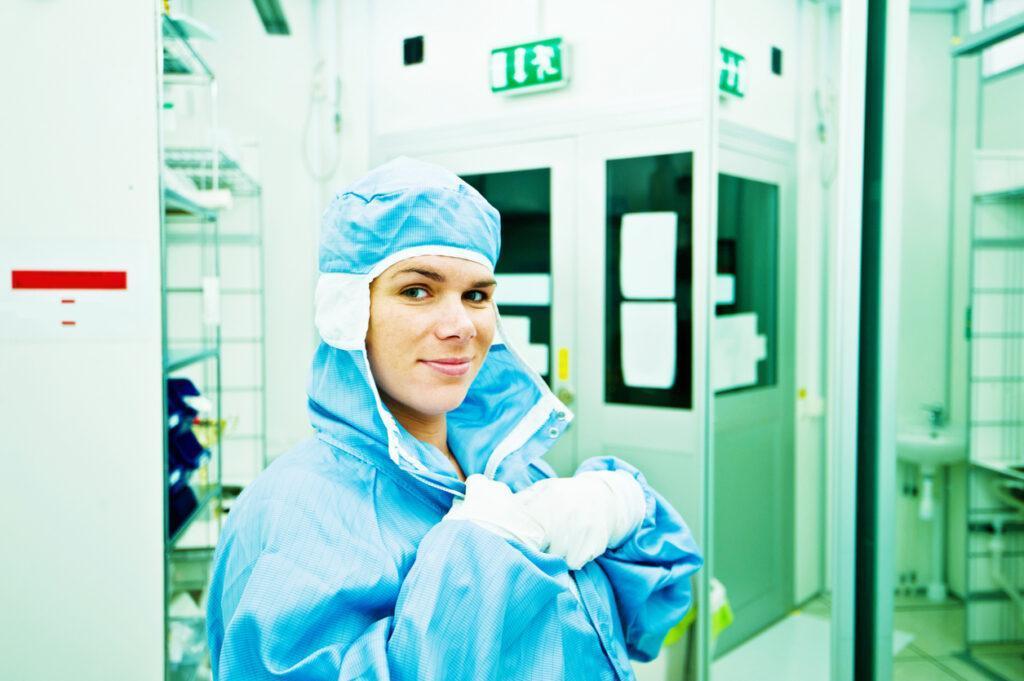 Protective Clothing
The protective clothing used by your employees is just as important as the cleanroom itself; sometimes you will have more lenient requirements for this. Pay special attention to any regulations regarding this part of the cleanroom. You should be prepared with the right protective equipment from the beginning as it can be costly to add extra protective items later on, especially when their use involves specialized training and other similar barriers. Think about where your employees will be storing their protective equipment as well. Ideally, you should provide them with a dedicated wardrobe for that. Employees should be provided with all the training they need to use the equipment correctly.
Maintenance Prospects
A cleanroom is not just expensive to set up. It also costs a good deal of money to maintain in the long run. You should account for all maintenance procedures that will be necessary. These will be directly tied to the materials and design choices you make during the planning. Consult a specialist if you are concerned with the prospect of this becoming too expensive. Pay extra attention to any additional access that will be required for maintenance purposes as this can often potentially compromise the cleanroom itself, potentially adding to your operational costs.
Keep your employees properly trained in the use of the cleanroom. This may require ongoing training sessions to keep people fresh on certain points. This is another cost you will have to account for. It will become an especially prominent issue if you start expanding with new employees. Having a well-structured training program can take care of that.
Cleanroom Supplier
It is the most important criteria to hire competent & knowledgeable cleanroom supply partner. Cleanroom material is just not construction material which anybody can supply and install. It requires technical knowledge and expertise to provide suitable cleanroom materials which will work for the applications. Also, the cleanroom contractor should know about ventilation, filtration, lighting, cleaning aspect, flooring and many other important criteria. It is recommended to select your cleanroom contractor who is known into the industry and have successfully build modular cleanroom with their materials as Turnkey Solutions. The future warrantee & guarantee can be addressed with them before awarding the contract.
Request a quote from ACH (A Cleanroom Hub) Engineering today!
Complete the form below to get in touch with our team.