ACH Engineering provides exceptional quality "Flush Design Doors" to suite an ultra-clean environment with effective control on room pressurization. We are reckoned as an eminent manufacturer of the finest quality Flush Doors in diverse options.
Flush design Cleanroom doors are needed to allow for human and material flow from and to the Cleanrooms while maintaining internal pressure and cleanness level.
ACH Engineering supplies different types of Doors:
Single Swing Door
Double Swing Door
In all cases, our products are manufactured employing advanced technology and high-tech machines under the close supervision of our experts.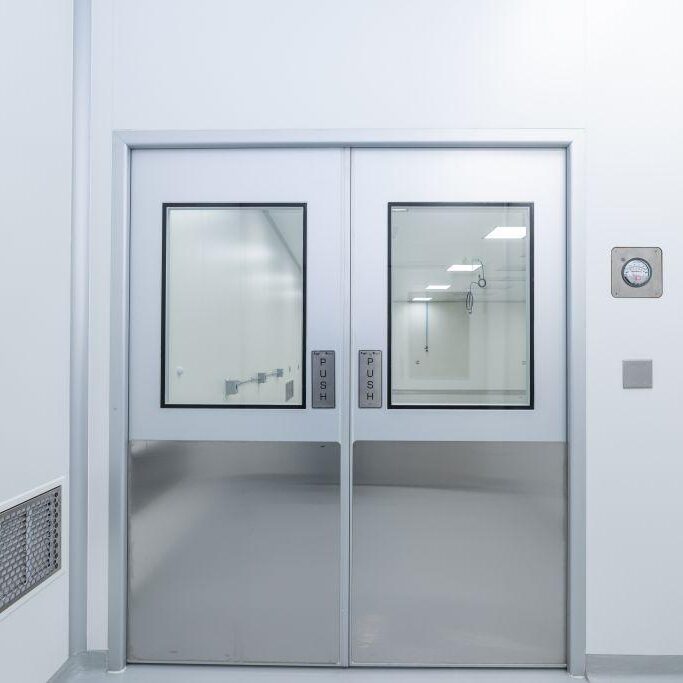 cGMP design

Flush design doors

Custom dimensions

Airtight seal

Automatic bottom drop seal

Both side flush glass

Heavy duty hinges & other accessories
Stainless Steel Pull Handle

Mortised door locksets and strikers, with door handles or magnetic interlock

Surface mounted door closers

Surface mounted electric door operators

Internal double door extension bolts

Hinges
Silicon rubber gasket for door frame and door leaf

Door SS kick plate

Latch

Door Holder
ACH Engineering is a trusted name in manufacturing, trading and supplying door bottom drop seals. Our automatic door bottom seal is spring loaded to lift clear of the floor as soon as the door leaf is opened by a few millimeters. Our products are stringently checked for optimum quality and are offered to clients at the best rates.
A designed seal for rebated applications. Mounted into a groove that has been morticed into the bottom edge of the door. It is operated automatically by pressure against the door jamb on its plunger and seals when the door closes and retracts automatically when the door is opened.
Product Features
Sound reduction

Protects against smoke

Lightweight operation

Self-levelling

Ultra soft silicon bubble

Spring loaded

Unobtrusive
Cleanroom Doors From
our projects