Cleanroom windows (vision panels) are needed to have a visible access to internal operations without the need to gown, which will enable overseeing internal operations and site visits.
Manufactured to integrate seamlessly with modular wall systems, ACH Engineering's vision panels comply with cGMP requirements.
We offer a variety of windows for clean room applications that integrate seamlessly with its modular wall and ceiling systems. Cleanroom windows can also be integrated into return air walls to minimize any air flow disruption.
Cleanroom windows are available in different designs and arrangements, such as:
Beveled windows
Flush windows
Double flush windows
Sizes can be customized according to project requirements, for more information, feel free to reach out.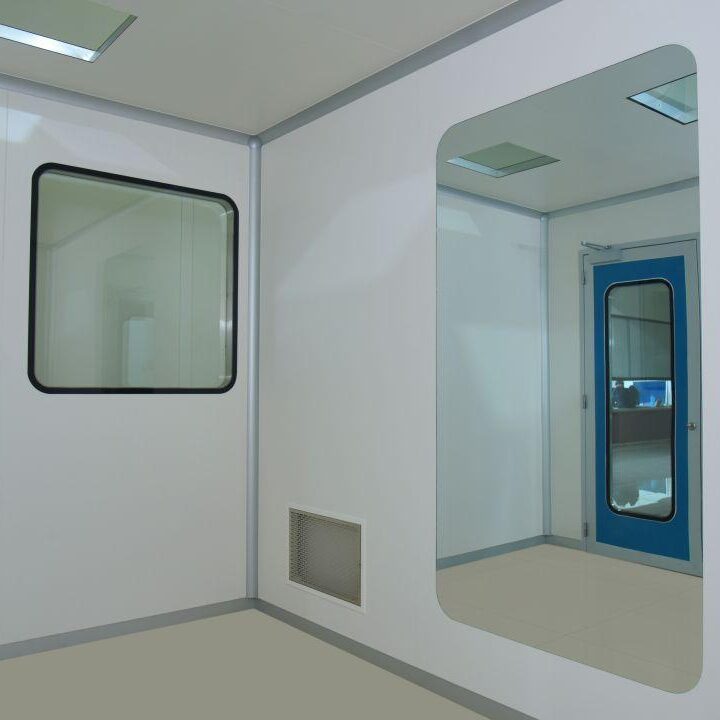 In all cases, the smooth surface of the vision panel ensures cleanliness, hygiene, stability and attractive appearance.
Our glazing options include:
Acrylic / Lexan

Double glazing

Tinted / Film covered glass

Tempered glass

Tinted glass
Single & Double-Glazed Vision Panel Features
Frameless design mounts flush to wall for a clean, showcase window
Window Material: Inside aluminium powder coated frame with toughened/tempered glass
For installation in standard drywalls. Glass may be embedded in standard gypsum walls
Surface-mounted.
Available in Standard & Custom sizes
Custom size windows - for combination between 3'x3' to 3'x4'
Suitable for walls thickness - 50 mm, 60mm
Color Choice available.
We develop and prefabricate each vision panel to fit Customer Specific Requirements
Specially designed Single Glazed Vision Panels – suitable for Masonry Walls or one side flush wall.
Vision Panels from
our projects