ACH Stands for "A Cleanroom Hub", which is our core business moto that enables us to push our boundaries and, expand to be a specialized controlled environment solutions provider, operating from Ontario to Alberta (Canada) and covering the North American market needs.
Our story starts with our clients, whether our clients need a controlled environment or a cleanroom for a LAB, Manufacturing Process or any other application ACH stands behind our clients and our clients business needs by understanding their process requirements. We then tailor the optimized solution and convert it into reality.
ACH's unmatched capabilities stem from it's people who carry outstanding qualifications and experience to provide robust turnkey solutions that contribute to the clients vision.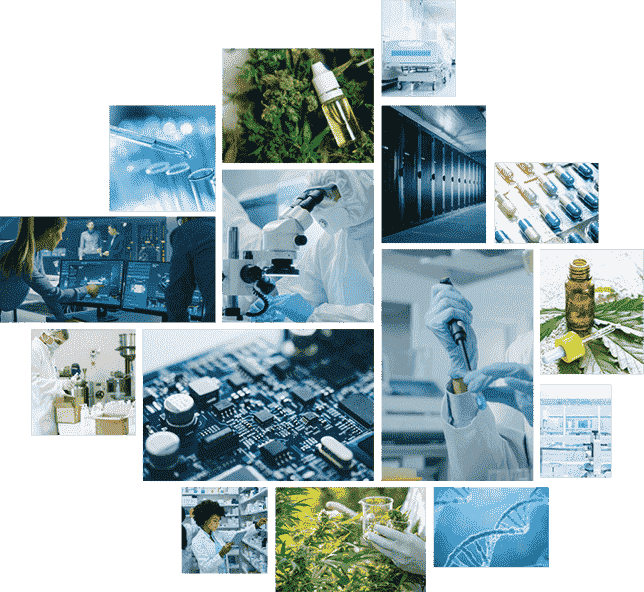 We provide and install
GMP Modular Cleanrooms
Our wall panels are manufactured in standard sizes and can also be customized depending on the application requirement.
Walk-on cleanroom ceilings are needed to eliminate the risk of contaminating the cleanroom environment.
Covings provide seamless wall-ceiling , wall-floor connections and eliminate sharp corners in compliance with cGMP requirements.
Flush design Cleanroom doors are needed to allow for human and material flow from and to Cleanrooms while maintaining internal pressure and cleanness level.
We offer a variety of vision panels for cleanroom applications that integrate seamlessly with modular wall and ceiling systems, while providing a crystal clear vision
Our lab furniture Designs and installations ensure a high level of convenience, storage and safety which helps in flexible operation and increasing efficiency.
Milestones of your
Experience with ACH
We believe that our role is essential to your business needs, and your experience with ACH matters to us, hence, why we care about every single detail throughout the value chain of service delivery.
From the moment that we get notified by your inquiry, till the delivery of your project outcomes. We are continuously improving systems that are tailored to serve you.
FAQ
Frequently Asked Questions
Not sure what is the most suitable cleanroom for your business? Here are some frequently asked questions to provide you with more details about our services.
A cleanroom is simply a processing room that is clean. In such enclosed space the environment (humidity, temperature, pressure, etc.) is controlled to minimize the dangers of introducing particles and microbes. A modular cleanroom is a type of cleanroom that is made of prefabricated materials (manufactured offsite) which are quick and easy to assemble on site. Modular cleanrooms reduce onsite cost and timelines.
Modular cleanrooms can be easily expanded, relocated, repurposed, or removed based on your industry's changing needs. They can meet any specifications and levels of cleanliness depending on the requirements.
Modular cleanrooms possess even more benefits than traditional cleanrooms. First of all, they are much easier and faster to install, meaning you will be able to resume work in no time. Second, they are adaptable and might be changed, moved, or reconfigured to fit any space within the facility. And last but not least, they are more affordable than regular cleanrooms because of the prefabricated components and fast installation process.
The type of cleanroom for your business depends on what you are planning to use it for. There are three basic types of cleanrooms:
HardWall cleanrooms can be used for many applications but are especially beneficial for productions that have strict cleanroom classification requirements. Such cleanrooms have solid prefabricated panels and aluminum frames.
SoftWall cleanrooms can satisfy most of the cleanroom classifications. However, when it comes to temperature and humidity control it might not be the most suitable. Such cleanrooms are made of vinyl curtains and aluminum frames which does not contribute to strict temperature management.
RigidWall cleanrooms can be seen as a combination of Hardwall and Softwall rooms. It is made of aluminum frames and clear, acrylic panels which makes it secure and durable while providing the visibly of a SoftWall room.
If you are not sure which type of cleanroom is the best fit you can contact our experts at ACH – A Cleanroom Hub who will be happy to help you examine your needs and propose the right solution.
Any cleanroom has to meet a certain classification or guidelines i.e. ISO, NAPRA, USP 797 etc. Cleanliness is defined by the highest amount of contamination allowed inside the clean space. Different classifications determine different levels of cleanliness. Class 6-8 ISO classifications are more lenient and at their lowest allow normal room air. On the other hand, Classes 1-5 are more stringent and might require air filtration. HEPA filtration is required in any classification along with pressurization design, clean construction, and appropriate gowning practice. For example, when it comes to pharmaceutical cleanrooms, there is no room for error or contamination. Such rooms require stringent ISO classification to keep the environment clean and safe not to affect the performance of drugs.
Standards and regulations of your cleanroom always depend on your industry and applications. Any cleanroom must be built for a certain Biological Safety Level and must comply with ISO classifications. Depending on your corporation you might have to comply with FDA or GMP (The Good Manufacturing Practices) regulations. Our team of experts will help you design a cleanroom compliant with given regulations to ensure you get your validation and certification. 
The time of installation will vary depending on the complexity and size of the modular cleanroom. Still, when compared to the traditionally built cleanrooms, the process is much faster. 
It should not take more than a couple of weeks to create design drawings. A brief delivery period follows, but once all components are checked in it only takes a few weeks for your modular cleanroom to be fully installed and functional.
Modular cleanroom costs are based on factors like size, design complexity, classification (class 1-9), type (HardWall, SoftWall, RidgitWall), and additional features (biological safety cabinets, air filtration, etc.). The costs are highly competitive compared to the traditionally built cleanrooms due to the fast and uncomplicated design and installation process. In addition, the cutback on unused material, costs of waste, and lost items which usually accompany traditional construction will reduce the overall amount. 
The great thing about modular cleanrooms is their adaptability and flexibility. No matter what the future holds for your industry and your business specifically you can trust your cleanroom will be able to adapt to changes. You can easily move your cleanroom to a different location, expand it, or even sell it if you no longer need it. Additional features like airlocks, gowning room, or biological safety cabinets can be implemented in your existing room at any time. If you foresee your industry growing, you might want to design the cleanroom with future expansion in mind.
Ensure that the amount of contamination that escapes from your manufacturing operations is at the minimal level
Do not provide cleanroom access to anyone who is not trained - Humans are the largest sources of contamination
Regularly clean the cleanroom according to strictly controlled SOPs and procedures
Regularly maintain all equipment
Regularly monitor filters and airflows and ensure frequent recertification of the cleanroom
Have more questions? Give us a call! We will be happy to guide you through the process to create the best modular cleanroom for your business.
Lets learn more!
Newest Blogs