Walkable Cleanroom ceilings are needed to eliminate the risk of contaminating the cleanroom environment, HEPA / ULPA filters, sprinkler heads and lighting fixtures are completely accessible without the need to access the cleanroom internally.
Ceiling panels can be provided with factory made pre-cut outs to accommodate all Mechanical, Electrical and, Plumbing utilities, which can save time and money during the installation process.
Ceiling panels can be provided with different designs and materials, such as.
Galvanized Iron, Powder Coated
uPVC
High Pressure Laminated (HPL)
The ceiling panels are also insulated with Polyurethane (PUR), Polyurethane Foam (PUF), Rockwool (RW), Paper Honeycomb and Aluminum Honeycomb.
Our standard ceiling panel load bearing is 50 lb/ft² (PSF).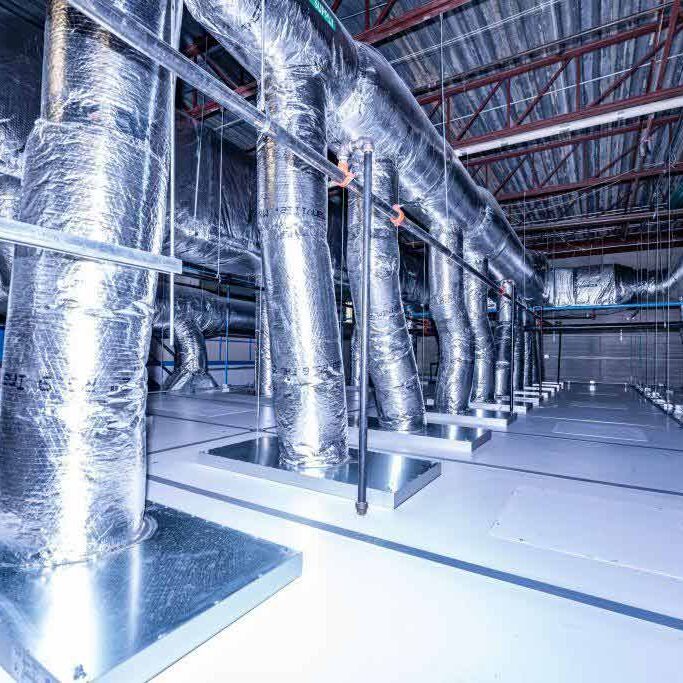 Ceiling Panel Material & Pre Cut-Outs
Our Modular Ceiling Panel systems have factory made cut-outs for:​
ACH Ceiling Panels have factory made cut-outs with a 15mm lip to house the HEPA filters, thus reducing cost and effort for providing cut-outs at site, adapters and hooks to hang the HEPA housing.​
Room Side Replaceable HEPA filter​
No onsite cutting will saving huge labor cost & saving in time
ACH ceiling panels will have factory made cut-outs.​
Walk over LED lights.​
Recessed ceiling mount; grid or flange - 1'×4', 2'×2', 2'×4'​
One piece overlapping door provides air-tight integrity of luminaire​
High-output, high-CRI LED lamp sources for accurate color rendition and lighting performance.
Pre-fab Pre cut walkable ceiling (Provision for Light, HEPA, LAF etc.)

Aluminum Profile peripheral ceiling panel.

Single 3-5 mm joint between two panel.

Max size (Height – 116″, Width – 44″).

Cable raceway on top with post caps.

Roof Suspended with unique Hanging Systems with adjustable 6" LH/RH turnbuckle.

Walk on ceiling panels are custom built as per Customer's Requirement for Load & Deflections.

Option available to design ceiling grid for better aesthetic view.

Standard ceiling panel load bearing is 50 lb/ft² (PSF)
Walkable Ceilings from
Our projects
Cleanroom Walking Ceilings